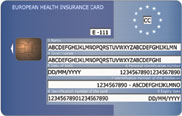 Persons who are not insured in Austria but have statutory health insurance in another EU member state, an EEA country or in Switzerland are entitled to receive health care during a stay in Austria prolonged because of ill health or injury incurred during temporary residence in Austria.

From 1 July 2004, such persons will only need to present their European Health Insurance Card or other evidence of entitlement to the health care provider in order to claim this entitlement. Please note that non-Austrian citizens are not permitted to enter Austria for the purpose of obtaining health care.

The patient will be required to provide certain information in a signed "DECLARATION". This declaration will be used by the health care provider in order to verify the identity of the patient and the necessity for the treatment required during the time of residence in Austria specified by the patient.


For additional information and to see a sample European Health Insurance card, please go to the EU homepage.

EU homepage ...